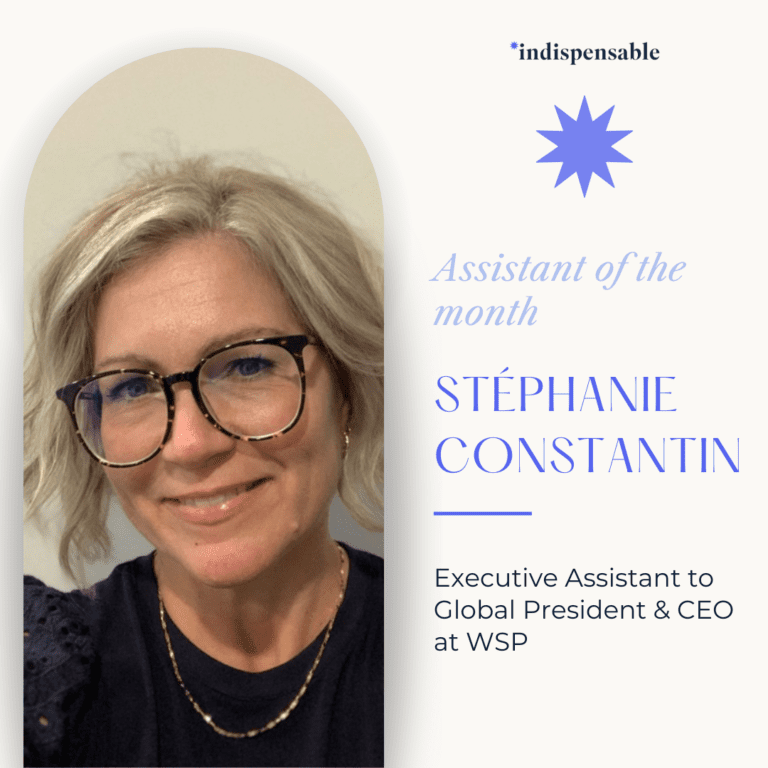 In this radiant month of August, Stéphanie Constantin, Assistant to the CEO at WSP, is in the spotlight! With unmatched organizational skills and unwavering determination, she is the pillar on which her colleagues rely. Passionate about her role and endowed with solid reliability, Stéphanie skillfully combines the desire to help with the strength to stand firm in her beliefs.
According to you, what is the main quality that an Executive Assistant must possess to progress in their career?
Versatility. This allows us to adapt quickly and transparently.
What aspect of your profession do you like the most?
Reporting to the company's top executive gives me the opportunity to meet and interact with extraordinary people from our company as well as those outside the company.
What advice would you give to someone looking to start a career in the administrative field?
You are a representative of your manager and must act accordingly. At work, ensure you are always the best version of yourself at all times.
According to you, what is the most underestimated aspect of the Administrative Assistant profession?
We are more than just calendar and email administrators. We are business partners. We listen, advise, and encourage. We share our ideas and concepts. We manage projects.
What is the computer software/mobile application you couldn't live without at work?
I'm torn between Teams and OneDrive. Teams allows me to be accessible at all times and enables me to view and/or share content transparently. OneDrive allows me to access all my files regardless of my location in a transparent manner.
What do you consider the best resource for an Administrative Assistant? (A person, a software, a specific service, etc.)
Open-mindedness, first and foremost! If you are open-minded, there's nothing you can't achieve. You can always learn from anyone willing to teach you something. It's the only way to grow. One should learn something new every day.
What is your greatest achievement as an Assistant?
I was part of a small committee (3), tasked with reviewing the costs, benefits, and/or drawbacks of relocating our headquarters. After a few site visits, we decided to stay in the same complex but move to different premises. We chose a contractor and a designer, and then the team dwindled to just 1. (There's a saying that if you want something done, ask someone who's busy). While doing my job and taking care of the board of directors, the chairman of the board, the CFO, and a few other executives, I coordinated with various trades, selected certain materials, ordered new equipment, ordered all the new furniture, all while being mindful of the schedule and budget. We moved in on time and within budget! I had support with the move coordination, for which I was very grateful. Task accomplished, next!
What can we wish for you for the rest of your career?
To continue being in a collaborative, respectful, and stimulating environment, which encourages me to keep growing and learning every day.